FROM
£1520
includes delivery

supply only – or Fully Fitted
DISCOVER MORE ABOUT OUR BI FOLDS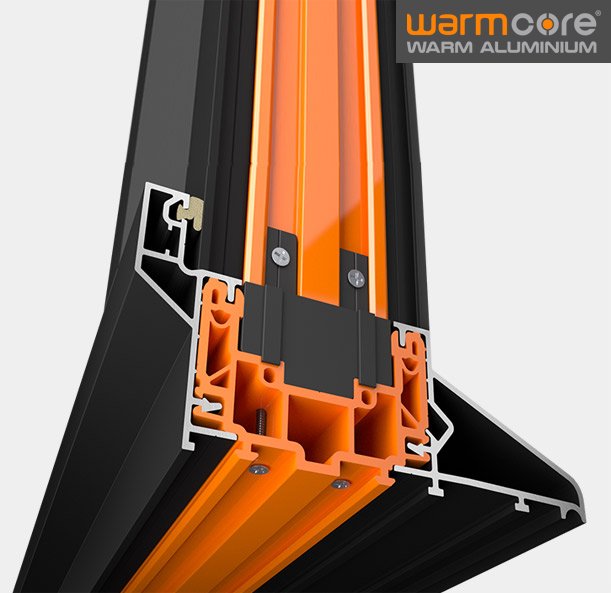 SUPERIOR THERMAL
PERFORMANCE
At the heart of WarmCore products is a thermal core which significantly out-performs the polyamide thermal breaks commonly used to reduce the threat of cold bridging on aluminium windows and doors. The result is an innovative "warm aluminium" frame construction, carefully dimensioned to provide an optimised 70mm front-to-back overall sash frame depth while ensuring market-leading thermal performance thanks to the multi-chambered insulating core.
Fully concealed multi-chambered cores substantially improve thermal performance when compared to thermally-broken aluminium doors:
U-value of 1.4 W/m2K with 28mm double glazing
U-value of 1.0 W/m2K with 44mm Triple glazing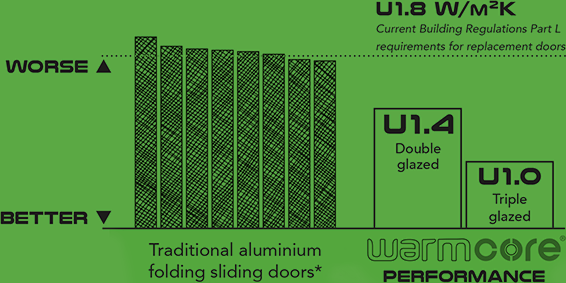 A U-Value is basically a measure of heat loss through a structural element. It is calculated on the rate at which heat transfers through 1 square meter of a structure and is stated in W/m²K. U-Values are used by the construction industry to compare the thermal performance of different materials and products.
* Data correct at time of publication. Based on nine UK aluminium double glazed folding sliding doors and with the following U-Values: 1.94, 1.87, 1.85, 1.83, 1.83, 1.81, 1.77, 1.76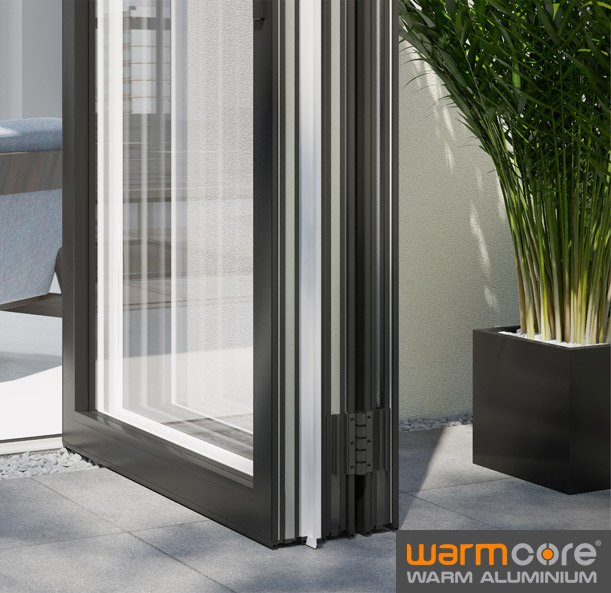 Precision-manufactured with a high quality surface finish and affording slim sightlines when installed, aluminium has become the material of choice for premium folding sliding door applications. WarmCore doors utilise a composite of materials to ensure an end product that is energy efficient and recyclable combined with the premium quality, structural integrity and architectural design elegance of aluminium to create a product perfect for both residential and commercial building applications.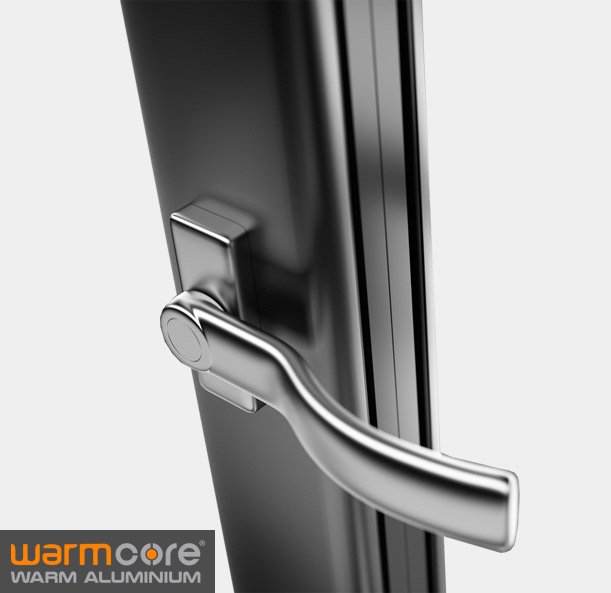 MODERN AESTHETICS
& EXTERNAL STYLING
An attention to detail that goes as far as creating bespoke union mouldings for gaskets ensures WarmCore outperforms the competition.
From the rollers to the handles to the corner assemblies, WarmCore displays an elegance of design that translates into a high performance installed product that looks outstanding.
Hardware available in Matt Black, Satin Silver and Brushed Graphite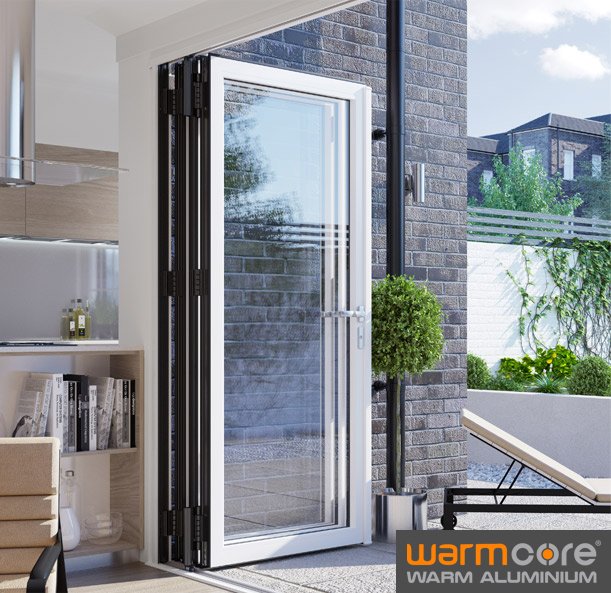 WarmCore doors can be glazed with 28mm double glazed units or 44mm triple glazed units. Glazing can be carried out with a choice of aluminium beads for a neat internal finish.
We recommend Celsius Glass, our exclusive range of high performance glass. Celsius Clear is specially formulated for vertical glazing and offers an impressive thermal performance to complement WarmCore.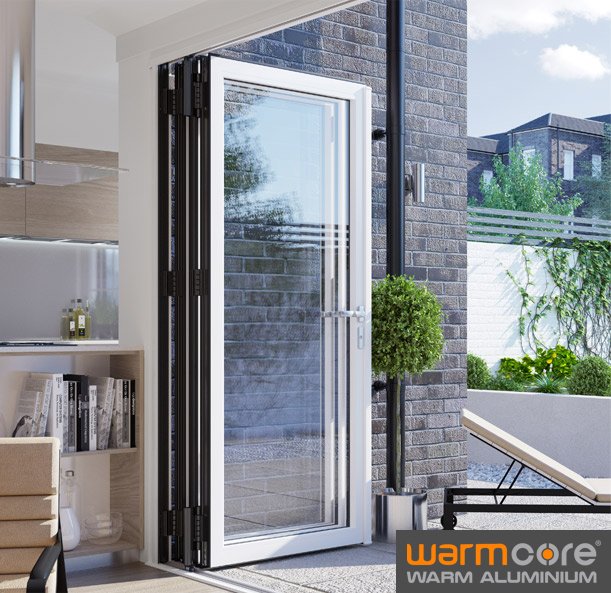 Flexible
Threshold Options
Sill options include a WarmCore standard threshold with integral sill, or standard threshold with an additional 150mm thermally-broken aluminium sill.
The Part M compliant low threshold design is thermally-broken aluminium and optional ramps and cover trims can be used internally, externally or both, depending on requirements.
Part M compliant low threshold can also be installed without any ramps, so that flooring can be laid up to the edges of the threshold or the threshold can be neatly set into the floor to create a flush floor level through the doorway.
Measuring and surveying guide
Step 1
Measure the width of the aperture in at least 3 different places top middle and bottom. Take the smallest of these and deduct 10 mm to obtain the width of the door set.
Step 2
To determine the height of the door first find where the finished floor level
will be including any floor covering.
Now determine where the sill (or threshold) will sit. Measure the height
of the door from the underside of the threshold or sill. Take a minimum
of three measurements as indicated, use the smallest of these
dimensions and deduct 10mm to give the overall height of the door set
including sill (or threshold).
Step 3
Check the aperture is square by comparing the diagonal cross corner
dimensions.
Step 4
Please ensure that the following points are considered when surveying for
a new WarmCore folding sliding door:
Floor levels in relation to the height of the track and frame.
Evaluate the position of the plaster line and the need for minimal disturbance to interior decor.
The head of the door will normally be fitted to a lintel, please ensure that the lintel manufacturer's guidelines are adhered to.
Make sure there is plenty of clearance for the doors to open in the direction that they will travel.
Bi Fold Door Door Gallery