FROM
£1520
includes delivery
Supply and installation service from £880 per glazed door leaf includes free site survey installation and a 10 year guarantee. Each of our doors comes with all the assurances you would expect from the UK's leading supplier of aluminium systems. Their elegant aluminium profiles are designed to provide both strength and durability, ensuring a structurally sound solution that requires minimal maintenance and delivers outstanding performance over a lifetime of use.

supply only – or Fully Fitted
DISCOVER MORE ABOUT OUR BI FOLDS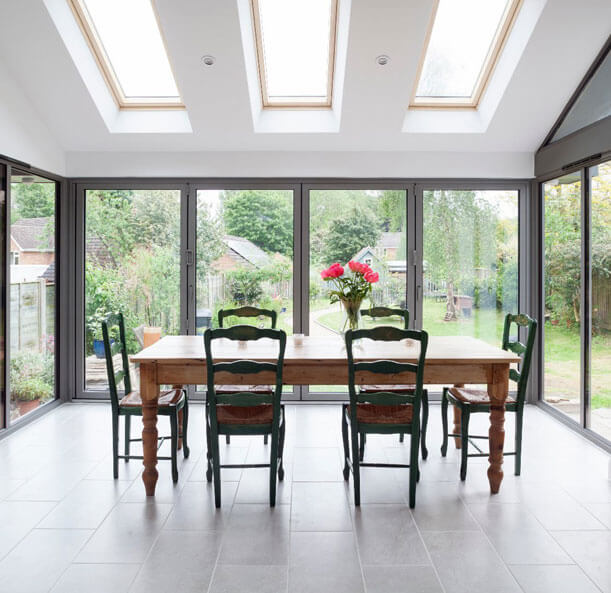 SUPERIOR THERMAL
PERFORMANCE
By choosing our sliding and slide-folding doors, you will be able to open your home to the outdoors, bringing a bright, open and spacious atmosphere.
Effectively opening-up an entire wall, you will not only create a relaxed feeling of light and space, but also frame the beautiful views of your garden and beyond. Suitable for installation in any room, these elegant systems add a touch of finesse and provide a striking glass façade.
Our range has been developed to provide a choice of high quality solutions. Open up space using our Visofold multi-panelled Bi-folding doors which concertina back to one or both sides.
With high-security glazing and locking mechanism (including security deadlock and hook bolts), and an unrivalled colour range to choose from (including dual-colour options), each door can be tailored to meet your own precise requirements.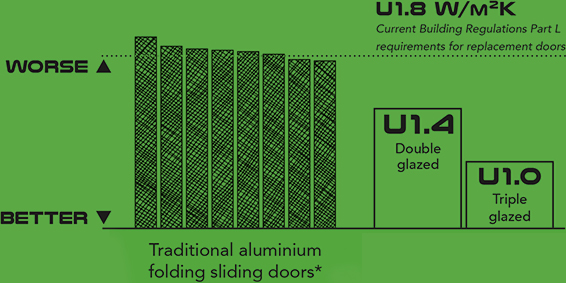 A U-Value is basically a measure of heat loss through a structural element. It is calculated on the rate at which heat transfers through 1 square meter of a structure and is stated in W/m²K. U-Values are used by the construction industry to compare the thermal performance of different materials and products.
* Data correct at time of publication. Based on nine UK aluminium double glazed folding sliding doors and with the following U-Values: 1.94, 1.87, 1.85, 1.83, 1.83, 1.81, 1.77, 1.76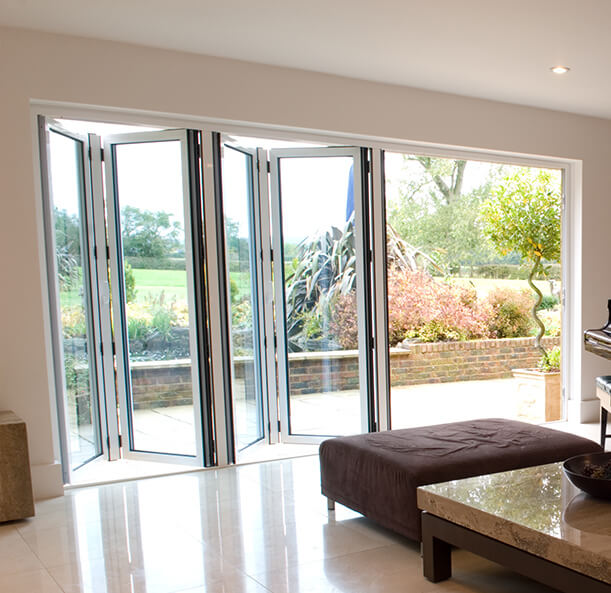 Why choose aluminium? Renowned for its perfect combination of light weight and high strength, aluminium is the ideal material for sliding and folding doors, providing slim, elegant designs and outstanding performance.
With a life-span measured in decades rather than years, together with extremely low maintenance requirements, aluminium has become the perfect choice for home owners.
All our systems are designed with performance, looks and efficiency in mind, with each frame incorporating a 'thermal-break' to insulate doors against heat loss, raise the internal temperature of a house and help reduce the risk of condensation.
Maintenance for aluminium systems is simple and straightforward, with a routine 'wipe-clean' all that is required to keep the products looking their best. With no requirement for re-painting or re-varnishing, aluminium windows and doors will never fade, deteriorate or rust, even in harsh environments, or coastal locations.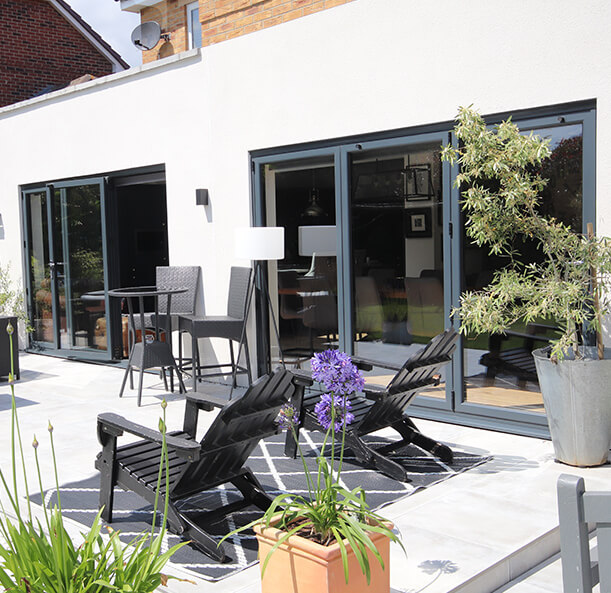 SLIDE-FOLDING DOORS RANGE
Available in a range of opening configurations to suit any application, doors can be folded internally or externally and with the opening at the side (so the sashes all fold one way), at one end (to create a single entrance door) or in the middle (to give the option of a double door).
flexibility makes it the ideal choice for projects where large, uninterrupted openings are required, with the system providing maximum light and space to give unimpeded views. The highly-versatile, easy-to-operate system is the perfect option for even the largest project, capable of opening up an entire wall, yet presenting a contemporary, elegant glazed façade when closed.
All profiles feature a thermal break to deliver enhanced thermal performance and energy efficiency
We also have a wide range of thresholds and sills to make our doors the perfect fit for your home.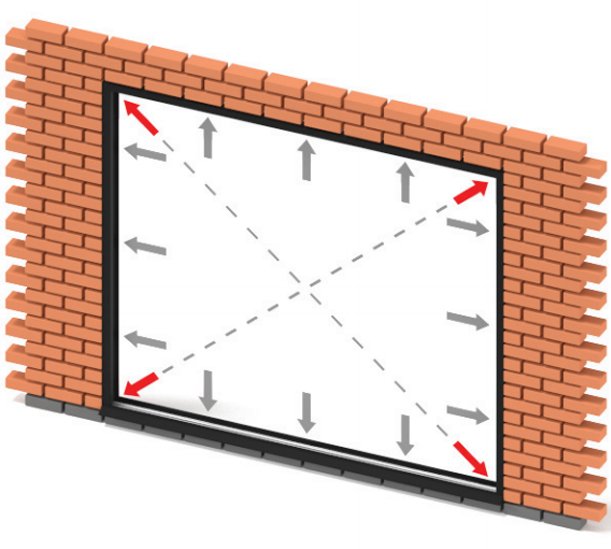 Measuring and surveying guide
Step 1
Measure the width of the aperture in at least 3 different places top middle and bottom. Take the smallest of these and deduct 10 mm to obtain the width of the door set.
Step 2
To determine the height of the door first find where the finished floor level
will be including any floor covering.
Now determine where the sill (or threshold) will sit. Measure the height
of the door from the underside of the threshold or sill. Take a minimum
of three measurements as indicated, use the smallest of these
dimensions and deduct 10mm to give the overall height of the door set
including sill (or threshold).
Step 3
Check the aperture is square by comparing the diagonal cross corner
dimensions.
Step 4
Please ensure that the following points are considered when surveying for
a new folding sliding door:
Floor levels in relation to the height of the track and frame.
Evaluate the position of the plaster line and the need for minimal disturbance to interior decor.
The head of the door will normally be fitted to a lintel, please ensure that the lintel manufacturer's guidelines are adhered to.
Make sure there is plenty of clearance for the doors to open in the direction that they will travel.
Bi Fold Door Door Gallery