8 Reasons You Need to Install Bi Fold Doors
All the Benefits of Installing Bi Fold Doors
As well as opening up your home, letting in more light, and increasing the value of your house, there's plenty of other reasons to install bi fold doors. Here at WDC we stock a huge range of bi fold doors, suitable for any property. We can deliver them either directly to your home or site. As well as pre designed doors, we also offer a design-your-own service. You can design your own unique bi fold doors to your exact measurements. colour, opening direction and size are all customisable. Create your dream doors here. Not convinced yet? Here are 8 reasons why you should install bi fold doors in your home.

Space 
Bi-fold Doors take up less space than traditional French doors or patio doors. Using our design-your-own feature, you can also specifically design doors that open outwards, so you don't compromise any space in your home. Up to 50% of the space surrounding traditional style doors can be wasted, bi-fold doors, however, take u
p around 10% of this space. Bi fold doors are often a go to choice for architects in order to open up a room in a home and make it feel more spacious and light.
Aesthetic
Looking to make your home a bit more modern and extend your living space? Bi-fold doors have a contemporary aesthetic and can create a feeling of more space, even in a small home. With WDC, you can also specifically choose the colour, handles, and opening direction so the door fits perfectly with the feel of your home.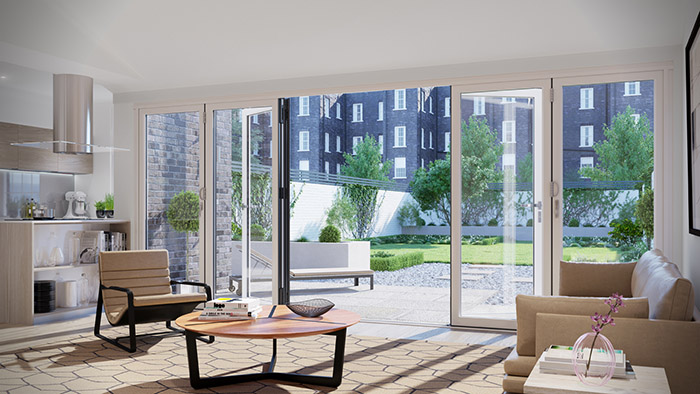 Energy
Bi-fold doors have energy saving benefits due to the large range of glazing options we offer. The "WarmCore" aluminium core also significantly improves thermal performance, keeping the cold out and heat in. WarmCore doors are 25% more thermally efficient than traditional aluminium systems as they are "Built with a revolutionary thermal core at the heart…"
Security
High levels of security also come with bi fold doors as opposed to standard sliding or patio doors. The WarmCore design of our bi fold doors ensures structural integrity for years to come. When coupled with the double glazing, the doors are durable, sturdy and secure. They stand strong against security threats and the weather.
Customisation
Bi-fold doors can be customised. They usually come in pairs with 2 doors folding each side, or with 4 doors splitting in the middle, opening in separate ways. Using our design-your-own feature, every aspect from colour to handles is customisable! Perfect for putting the finishing touches on your home.
Light
Bi-fold doors allow a large amount of natural light into your property. Natural light gives homes a warm, welcoming feel and also means less will be spent on lighting and electricity! If your property is south facing, bi fold doors will make the most of the natural light and brighten up your living area.
Durability
The external bi-fold doors from WDC are weatherproof, durable and long-lasting. The aluminium material the doors are constructed from is renowned for its durability and doesn't compromise on appearance.
Long Lasting
Bi fold doors are constructed with minimal moving parts to reduce wear and tear and ensure the products are long-lasting. The materials the doors are constructed with are also extremely durable and weather resistant.